Mother Mary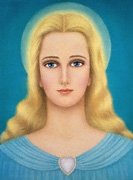 Mother Mary is possibly the most famous feminine ascended master in the West, with her well-known embodiment as the mother of Jesus, and her revered status in the Roman Catholic church as Mary, Mother of God.
I think that Mother Mary is one of the most personable ascended masters and a great support for mothers of the earthly kind, as well as being a spiritual mother to all of us. Her name, Mary, reflects the "Ma-ray" or Mother Ray of God's light. This is why she is known as Mary, Mother of God.
Mary is actually an angel, or more specifically an archeia, the consort of Archangel Raphael. However, angels can and do take embodiment when there is a need, and in Mary's case she had an important role to play as mother to Jesus, helping him to prepare for his vital mission.
When you think about it, it's hard to imagine anyone more suited to raising the savior of the world than an angel. She was able to hold the balance for his mission on an energetic level because of her high spiritual attainment. Joseph, her husband in that embodiment, later became the ascended master Saint Germain.
In her book Prayer And Meditation (p.22) Elizabeth Clare Prophet gives multiple titles illustrating the many roles that Mother Mary holds:
"Twin Flame of Archangel Raphael; incarnated in Palestine during the first century A.D. as the Mother of Jesus Christ; Teacher of the Science of the Sacred Heart and Immaculate Conception of the Christ within Each Child of God; Initiator of the Disciplines of the Mother Flame; with Raphael, Intercessor of the Healing Science and the Disciplines of Wholeness in the Temple of Being; Archetype of New-Age Woman, Sponsor of Incoming Souls."
Mother Mary has given us a rosary for the new age: a series of devotional prayers and the new, more positive, Hail Mary which affirms that we are sons and daughters of God (rather than sinners, as in the Catholic version) and asks for Mary's intercession until we have our "victory over sin, disease and death". Words and audio at The Summit Lighthouse website.

Read more about Mother Mary's role in spiritual healing


Return from Mother Mary to Ascended Masters