Elementals: Guarding Fire, Air, Water
and Earth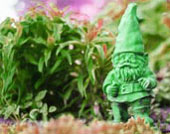 Elementals are nature spirits. They are beings created by God to serve mankind in caring for our planetary home.
They exist in four groups governing the four elements of earth, air, fire and water. These groups each have a male and female leader known as the hierarchs of the elements.
Gnomes are the earth elementals, maintaining the balance of forces in the earth and nurturing the growth of trees, plants and so on. Virgo and Pelleur are the hierarchs of the gnomes. Gnomes are undoubtedly the most widely known nature spirit, and although the little statues that some people have in their gardens are intended for decoration, they do actually function as spiritual focuses for the gnomes.
Sylphs are the air elementals, serving to purify the air, guard the skies and maintain the weather patterns. The hierarchs of the sylphs are Aries and Thor.
Salamanders are the fire elementals, guarding the mystery of how the physical fire becomes the sacred fire (the violet flame) and teaching man how to harness universal energy. Oromasis and Diana are the hierarchs of the fiery salamanders.
Undines are the water elementals, governing the cycles of the water element in oceans, rivers, lakes, raindrops and suchlike. They are sometimes depicted as mermaids. The hierarchs of the undines are Neptune and Luara.
These nature spirits are essentially beings that are at a lower level of evolution than animals or humans. However, some who have shown great attainment and service to humanity have been granted dispensations to cross over into the animal kingdom or occasionally the human kingdom in order to continue their evolution and to be granted the divine spark in the heart, also known as the threefold flame of love, wisdom and power. Archangel Michael, prince of the angelic kingdom, actually began his existence as a nature spirit.
These environmental caretakers were placed under the dominion of man by God and so they have gradually, unfortunately, taken on the burden of human imperfection. Mankind's cruelty causes them to become unable to carry out their duties of maintaining balance in the elements. This is a big reason why we see floods, hurricanes, wildfires and earthquakes as each of the groups of elementals gets overwhelmed.
Giving violet flame prayers and decrees on behalf of the elementals helps to transmute the negative energies they are burdened with and restore harmony in the weather.
Here is a fiat that you can give on behalf of these hard-working nature spirits:
"I AM! I AM! I AM! the resurrection and the life of all elementals — fire, air, water and earth!"
("I AM" affirms that "God in me is")
Return from Elementals to Spiritual Guides