---
A Spoonful of Spiritual Quotes, your weekly words of spiritual encouragement and wisdom, brought to you by Spiritual-Encyclopedia.com
---
Dear,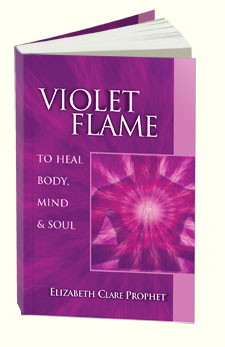 Whoops!
Well, unfortunately that book, I was directing you to last week, disappeared before many of you could download it.

All is not lost because you can buy Keys to the Kingdom here.

However, in case you didn't notice, further down the page is the chance to download the Violet Flame book: Violet Flame to heal body, mind and soul for free.

You can get the Violet Flame book here. Just scroll past the pictures.

I just love that book. I've read it several times.

If you'd rather have the physical version you can buy This lovely Violet Flame pocket guide here.
From Saint Germain
So, I thought you'd like this great quote from Saint Germain given through the messenger Elizabeth Clare Prophet via the auspices of the Holy Spirit on 14th October 1991.

As an ascended master, he released the knowledge of the violet flame to the world and sponsors the use of it.

Don't you just love the picture above of Saint Germain? If you don't see, you may have a facility to show pictures in this email. :-)

Anyway, here's the quote.


---
I know that it is upon your heart to know and understand what God has appointed you to do in this life and in previous lifetimes. I know you have a deep desiring to fulfill all things, that you might arrive at the gate of the next world having fully accomplished your mission.
I can assure you that the violet flame will assist you in accelerating that mission and the spirals of light in every atom and cell of your being. I assure you that you can encapsulate time, accelerate time and find yourself accomplishing in ten years what, without the violet flame, could take you a century.
The violet flame does shorten the distance. It does increase the capacity of every moment and hour. It accelerates the functioning of the mind and the ability of the body to be rejuvenated.
~~ Saint Germain ~~


---


Many Blessings,
Patricia

PS. If you don't have the violet flame book you can go get that download now.

PPS. Feel free to forward this email to a friend. If a friend DID forward this to you and if you like what you read, click here to subscribe.